Brazilian wool is a type of wool that is often used in the hair industry. It is a great choice for those who want to have long, thick, and shiny hair.
Brazilian wool is usually combined with other types of hair to provide a fuller look. In this article, we will explore some of the stunning Brazilian Wool Hairstyles that you can try out.
Breathtaking Brazilian Wool Hairstyles
This section focuses on the use of Brazilian wool in hairstyles. So, what styles can you create with your Brazilian wool? Looking for a hairstyle that will enhance your natural beauty? Brazilian wool hairstyles are an excellent method to add a distinctive touch to your entire appearance.
1. Brazillian Wool Butterfly Locs
The Brazilian wool butterfly has recently been introduced, and it is fast becoming a trend. This is quite a great protective hairstyle for any hair type. Most importantly, it keeps your edges from damage. The good thing about this hairstyle is it stretches your hair after losing, it makes the hair grow.
2. Faux Brazillian Hair
It's quite hard not to love faux locs, they are cool and have these classy attributes as well. This is a short faux loc in case you don't like long hairstyles. Just what you need when your hair starts to break off.
3. Smooth Brazillian Wool Dreadlock
Here is another Brazilian wool hairstyle you will find charming and fitting as a protective hairstyle.
4. Blonde Twisting Brazilian Hairstyle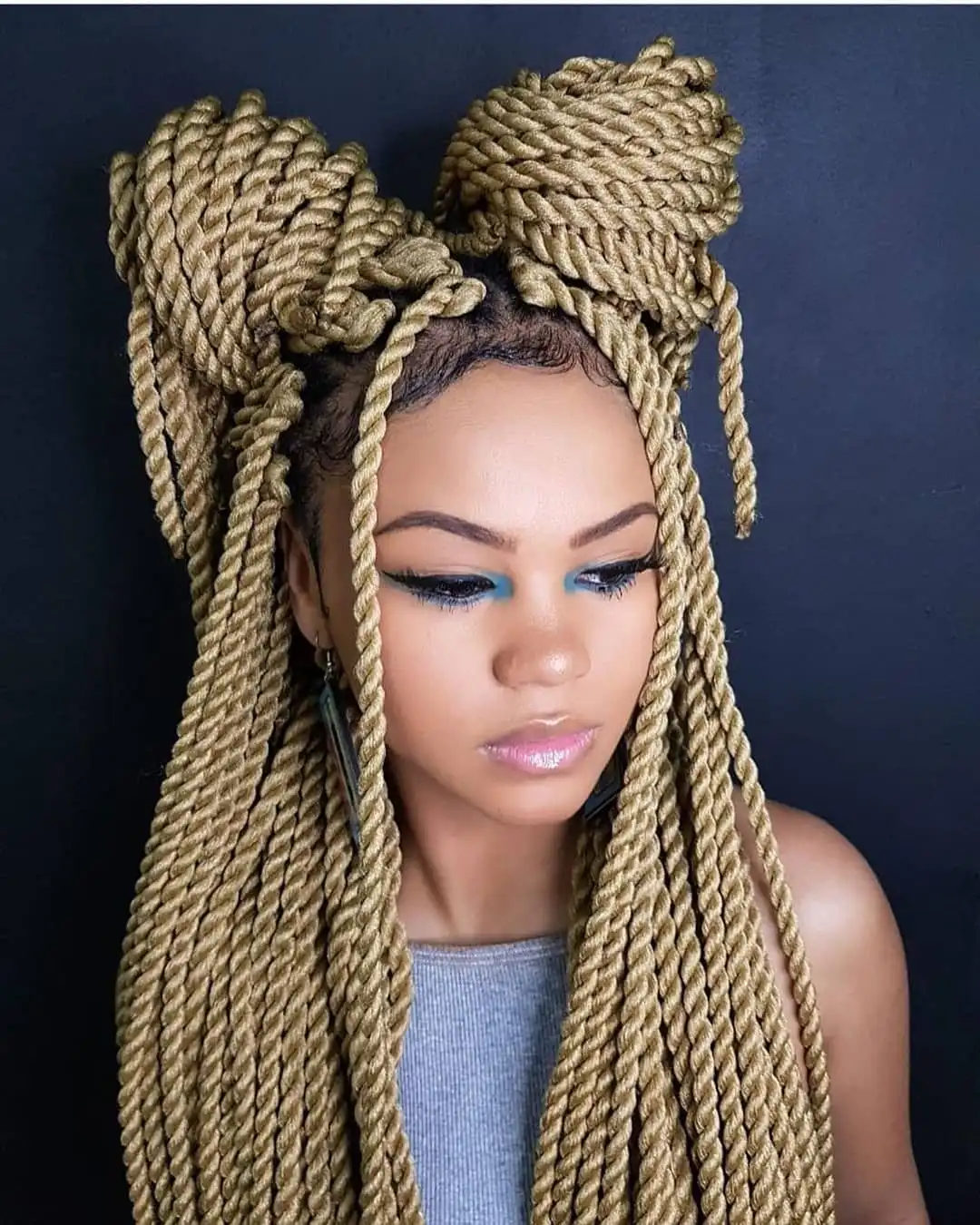 Blonde Brazillian wool hairstyle is another way to update your look and do something nice with your hair as well. This hairstyle gives you a bold classy look you can rock on any occasion.
5. Green Brazillian Hairstyle
This is another color of Brazilian wool you will surely find exciting. It's another cool trend you should try if you are going for a full vibe look.
6. Pink Twist Brazilian Wool
Pink seems to be the new black, and we are all into it. This is a sassy hairstyle for those who like bold colors.
7. Orange Wool Hairstyle
Here is another bold color combo that can change your mind about wool. This is made with normal wool but your Brazillian wool can be used for this hairstyle.
8. Skinny Brazilian Wool Braid
If you're looking to try something chic and new, why not go for skinny braids? This style obviously provides a striking look. The color shade appearance looks great, and one thing about this style is once your braids are finished, you can keep them in for up to eight weeks, depending on your hair type, the older it gets, the finer it becomes, only if you can get it done from a good stylist. Just make sure to take them out when your hair begins to frizz!
9. Classy Brazilian Wool Weave
If you are after a bold hairstyle and don't want to get delayed to get your kind of hairstyle, why not try these classy braids! All kinds of ladies can rock this gorgeous and girly hairstyle, and there are so many shades to choose from, from pink to peach and blue to green, anything that suits you will just do.
10. Colored Brazilian Wool Weave
If you are after a bold hairstyle, why not try pastel yarn braids! Great for newbies and hair-dye fanatics alike, all kinds of women can rock this gorgeous and girly style! Plus, there are so many shades to choose from, from pink to peach and blue to green.